PIVOOOOOOT! I know you can hear Ross yelling this well-known phrase in your head. And although his staircase endeavor wasn't very successful, he was on to something.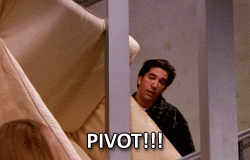 Pivoting is essential in life. Because let's be honest: nothing ever goes as planned. Your business is no exception to that rule.
I think the last couple of years have taught us that resilience is a much needed trait as an entrepreneur. 
But where to start on your pivoting journey? I'm here for you, my friend. Let's see if your business is pivot-proof, shall we? Start by downloading my free Business Pivot Checklist. Let's go!
The 6 month rule
What is a healthy business? I'm afraid there is no clear answer that fits all. But there is an indicator that has never in my career failed to deliver: the 6 month rule.
Ask yourself the question: Will my business survive the next 6 months without any revenue?
If your answer is 'yes', it's time for a victory lap. Because that means you can call your business healthy!
When you shamefully shook your head to answer the question above, I am here to tell you: Chin up, warrior! We've got this! If you can hang on just a little longer, I'm handing out results in the end.
A clear future
Don't be discouraged if your 'now' doesn't correspond with the vision you have for the future of your business.
If it just took a snap of your fingers, it would be as fun, now would it?
But make sure you have a clear vision of where you want to go. Let's make it as concrete as possible. Where do you see yourself and your business in 2 years time?
Write it down and look back at it at least once a week to stay focused.
Check your backbone
Confidence exudes professionalism. Do you still feel confident in your entrepreneurial game? Do you know what you are talking about? No, forget that: Are you captain of industry? (If you don't know what I am talking about, go check out my podcast on how to become captain of industry)
When you find yourself often looking at other business owners with a why-not-me mentality, that means you've got some work to do.
Good news, champ! I am here to help.
In just 3 weeks I can help you pivot to the right goals in your business with my 3-weeks Intensive.
You get:
1️⃣ Video modules
2️⃣ To watch on your own time, when it suits you and your schedule
3️⃣ Containing my Big Business Framework
4️⃣ To set you up for business success
Register here to secure your spot!