Today I'm breaking down for you how you can launch your new business, product or service.
​
Launching is a set period of time to present your product or service and is a very valuable tool to learn how to sell and… you need sales to keep your business alive.
​
Most business owners believe they should attract new clients through 'passive' funnels or ads (or worse, wait for the client to come to them), but I believe you first need to learn the ropes of sales and launching before you can sell passively.
Launching sets you up for massive results
​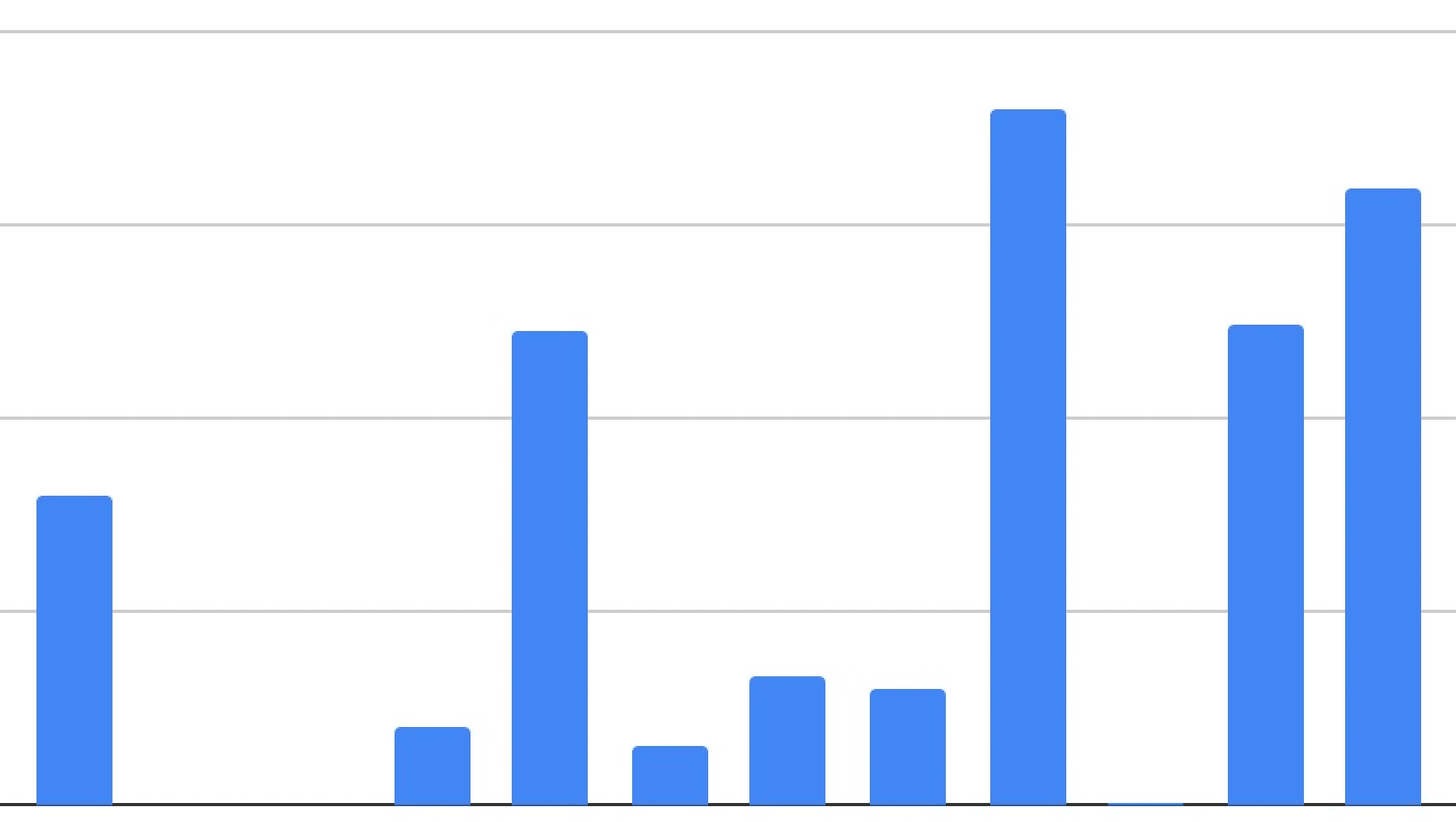 A year of launching in your business might look like this…
How to launch with ease in 5 steps:
1. What are you going to offer
​
​You'll first need to know what you're going to launch, preferably have sold a MVP before.
Answer these questions:
​
– who is your ideal client?
– what is it that you offer (online/product/timeline/access to you)?
– what is the price going to be (see 2.)?
– when are you gonna launch it?
– how are you gonna launch: online, through cold calling, etc?
​​
​2. Pre-Launch (planning)
​In the plan phase you're beginning with the end in mind (what is the result you desire in a perfect world?).
​
Plus you're deciding how much time you need and want to spend on this.
​
Also in this phase you decide if you're gonna create urgency by setting your prices differently in each different phase of the launch.
(For instance; pre-order/early bird/close cart prices).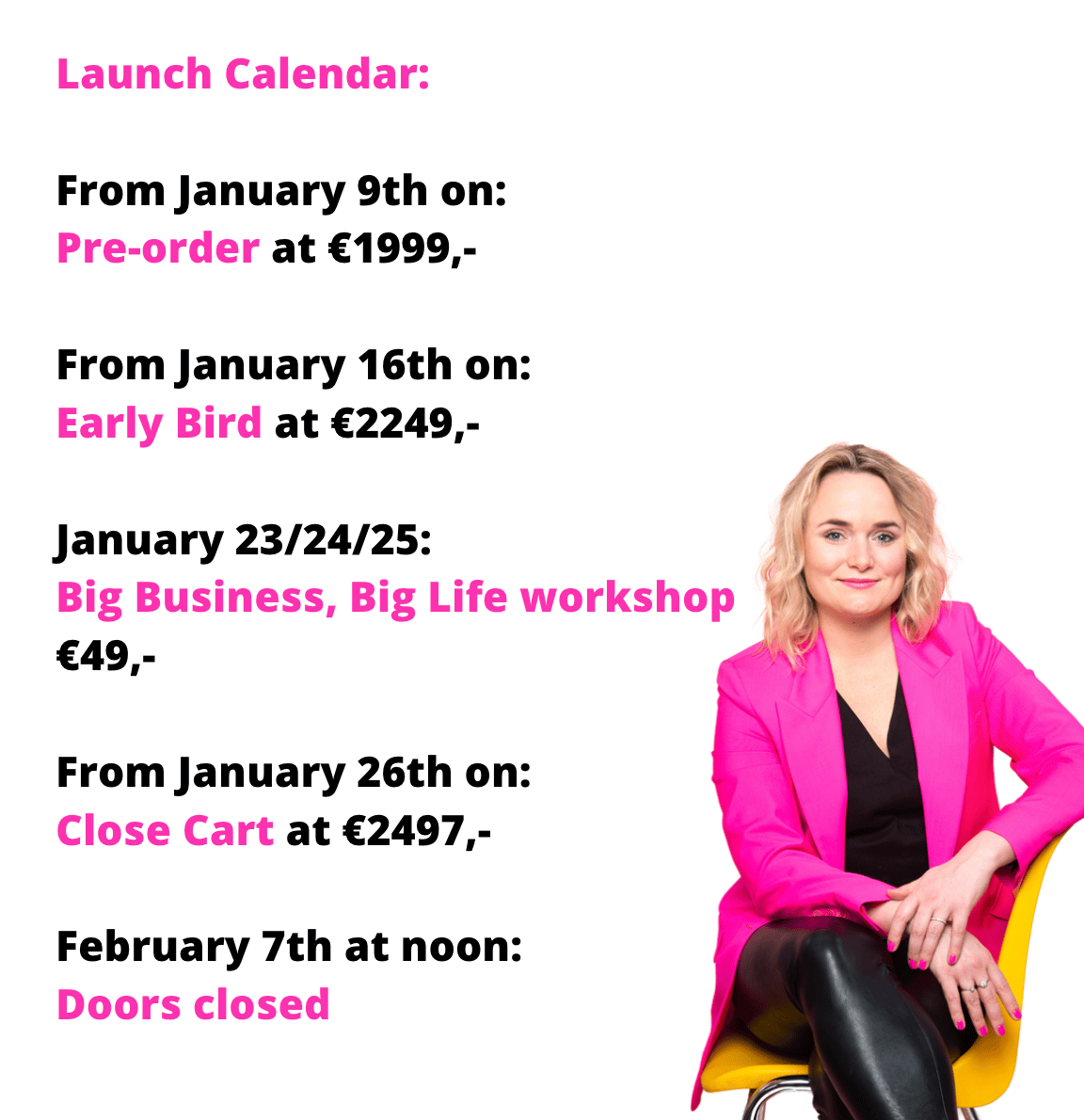 For example: my launch phases for the upcoming Mastermind
​
3. Warming-up (talking to your warm leads /waitlist)
​In the warming-up phase you're talking to your hottest leads, the people on your waitlist, the people who bought your MVP and you're offering them typically a discount for being loyal to you.​
​
​So far the easy part 😉
​​
​4. Now it's time to really step into Launch mode
​This is the moment to fill the pipeline by creating killer content, offering affiliate links to existing clients and in that content you're going to:
– handle objections
– show proof of why people should work with you (reviews)
– permit the sale (sometimes you have to help people to make the decision to buy from you)
​
​5. Close Cart & Follow-up (collect reviews or upsell/downsell)
​This is the hardest part: do not ever give up in this phase: even though it looks like no one is going to buy anymore, it might be that 20% still steps in at the last minute (why not try it?).
​
Do not forget to step into the deepest desires of your ideal client: what do they really want?
​
Think of yourself as a politician right before the elections: they are everywhere, on television, on the streets, they really wanna win, you want that too.
It ain't over till it's over.
​
Birgitte Nyborg in Borgen, right after she won the elections.
Save this email for later if you're ever gonna launch.
​
And if you liked this breakdown, subscribe to my launch revealed mailing list.
You will receive 4 emails the upcoming 4 weeks on how MY launch is going.
I'm sharing:
– how I'm creating content, analyzing it and changing it
– how to get more leads through demand generation
– how I am rewriting my sales page
– how I am writing my emails, to really step into the desires of my ideal client
– my segmented mailing strategy
– the different phases of a launch and what I'm doing in each phase
​
It's gonna be honest, sincere and very scary (for me, haha).
​
See you inside, you will NOT automatically receive these emails, you really need to subscribe here.
​
In this week's podcast
When you're launching, you need to set your prices.
I'm sharing one of the questions coming from my Mastermind about how to set your prices for her new membership (you can use the advice too for your product or service or even… business).
​
The question from the audience is about making sure what to do once a client says goodbye and how to find a new one. I am answering this question in 5 parts.
​
And my question for you is a really interesting one, especially for the beginning of the year.
​
Happening in my business this week:
​It's pre-order time for my Mastermind, so if you want to join 6 others in the 3-month Mastermind (starts Feb 7th), this is the best moment to step in!
​
​(Hop in till Monday noon and receive 500 euro discount!)
​​
It's gonna be a great journey into taking your business to the next level and I know you deserve it.
​
And if you're not ready for a big investment yet, I want to invite you to my 3-day workshop Big Business Big Life, from January 23rd-January 25th, it's gonna be loads of fun (it always is) and you will walk away with a clear idea on what you want to do in your business and career this year.
​
​
Also, I've received so many nice messages about the podcast & newsletter 2.0, thank you so much for this and have a happy week <3
​
Love,
Sarah
Join my Private Facebook Group (monthly free trainings)
Find me on Instagram​
Find me on LinkedIn​
Listen to my podcast on Spotify​
Watch my podcast on Youtube​
​