Today we're talking about something I call Smart Stacking and why it can help you build your business to new heights.
​
Smart Stacking allows you to not always have to start over, yet again, but to actively build on your business in a smart way and loose the 'employer mindset' in your business.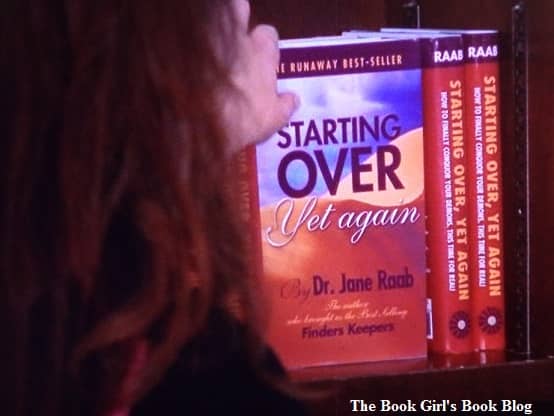 Charlotte York's new favorite book, which ended up on someone's lap on the street.
That feeling of always starting from scratch is tiring and we don't want that in our business, we want our business to work for us, not the other way around.
Most people fail to build in their business, because they're not taking a minute to see the connections in their experience and how they can leverage that.
​
In this newsletter I'm explaining how I'm helping my clients with this and how you can do this for your business.
Smart Stacking will allow you to leverage more opportunities for your business.
Smart Stacking works in 3 ways:
​
​1. Review your experience
Most people tend to forget the experience they're having.
​
The people I work with have 10-20 yrs of work experience and every experience they have is attributing to their unique business.
​
I teach them to look at all the experience they have and what sets them apart from the rest. You can write this down for yourself too!
2. Determine how you can stack everything you're doing from now.
​​
Let's have a look at your offer: what is it that you're offering right now?
Do you work with an hourly rate?
​Have you ever considered offering packages for your clients to make your and their lives easier?
​
​Are you offering something that you can sell over and over again?
​Or are you only doing done for you services?
​
Might there be something which you can turn into a guide, blog, newsletter, podcast, course, a song, merchandise, a product, anything, which can allow you to share it so that it's not just for that one time.
​
​What does your product suite look like?
​After a few rounds of my Mastermind I think I can say that the Product Tree is a very popular concept that many of my clients can fall back on, it's something I came up with and continue to develop.
The idea of the Product Tree is that you are the trunk yourself, you are nourished by the soil through your roots (which is your work experience and everything you have learned before) and everything that you are going to create from now on are your branches.
Draw it out for yourself what your product tree looks like and write down what else could be in your product suite.
After you've done this, the next step is that you're going to stack from here:
3. Once you figured out what you desire to offer, you start with building your community.
​
​A. Who is your ideal client?
​Make a list of people you want to work with and start having a conversation with them, ask them what they desire most in life and business. Create for that.
​
​B. Create a community
​Create a space where people can come together where you can talk about the specific niche you are serving. You're not actively selling in this community, but you're building trust.​
​
​C. Create free articles or trainings for your community, cherish them
​And if there's someone who wants to know more about your services, talk to them, ask them what their desires are and create an offer just for them and later for the entire community.
In this 3-step Smart Stacking process you are:
​1. Building from your experience;
2. Stacking everything you do from now on;
3. Building your community and build more offers from there.
​
In short, Smart Stacking means:
​
​It starts with you, but you need an audience to leverage what you do.
In this week's podcast
One of my clients told me she was a bit short on cash because she had to pay her taxes and everyone did, so it was everything, everywhere, all at once.
So in this week's episode I'm sharing how I helped her how to successfully make more money.
​
And you know I am not someone who believes to give advice to 'get rich quick' – but sometimes you just need the cash. STAT.
Also I'm answering a question from Julia on how to politely say no to a client (I loved that question) and what is the positive trickle down effect of saying no.
You can find the episode here:
Do you have a question for me for on the podcast?
It's really easy to submit yours:
Happening in my business this week
1. I've hosted a Secret Birthday Sale on Friday & Saturday and I am so honored that 5 people bought the offer blindly.
I revealed the secret on Sunday and luckily they are not disappointed!
​
My first event as Sarah Big Business is called:
​
​The Royal Retreat
A High Level event in sheer luxury
​​
I can not wait until it's happening.
​
Sorry you missed it?
​You can find updates on my next events through here.
​
2. My Mastermind is moving from Module 1 (Knowledge) to Module 2 (Worth), so we will be talking about money a lot the upcoming 2 weeks.
​
3. This Friday I'm celebrating one year of the Sarah Big Business Podcast!
​
Celebrate with me by submitting your question through here.​
Thanks for your time and have a great Thursday!
Love,
Sarah
—
Whenever you're ready, there's 3 ways to work with me:
​
1. I'm opening up some spots for the 3-week intensive, a pressure cooker program for you to flip the switch and go for a new direction in your business intentionally.
​
2. If you like the way I'm presenting my content, you can learn exactly how I'm doing that, but also to figure out what works for you, in a 1-hour video training priced at 33 euro.
​
3. Or you can follow my free 20-minute training on how to create your sales strategy for this year.
Join my Private Facebook Group (monthly free trainings)
Find me on Instagram​
Find me on LinkedIn